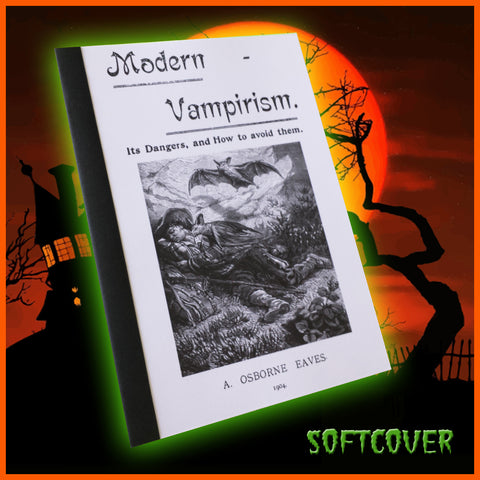 Modern Vampirism: Its Dangers and How To Avoid Them (1904) (Softcover)
by A. Osborne Eaves. (56p.) Orig. published in 1904
Preface:
If an apology be needed tor the appearance of of the age, when to be healthy is to be abnormal, and the dangers in which the wholesale dabbling with the unknown will enmesh the feet of the unwary. To the widely read there may be little new in the subject, but as this is primarily written for the general mass of people it may not be hackneyed, and will, it is hoped, be of service.
That the subject is one in which a keen interest is taken is shown by the fact of its being the most popular of the thirty odd lessons or essays written by the author, and its more complete form should make it more useful.
The writer gratefully acknowledges his indebtedness to several authorities on the subject, and these should be consulted by those whose interest may be sufficiently awakened by it.
A. OSBORNE EAVES.
May, 1904.
---