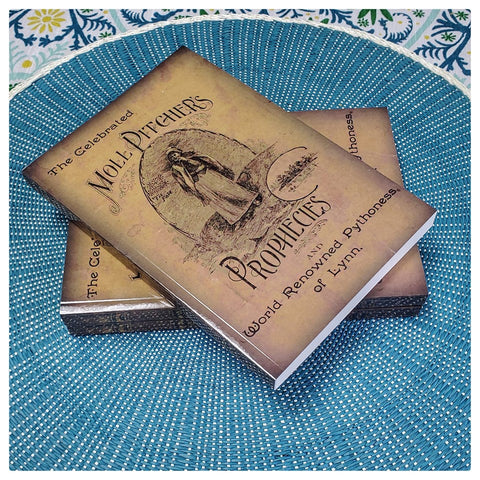 Moll Pitcher's Prophecies or The American Sibyl
"The Celebrated Moll Pitcher's Prophecies and World Renowned Pythoness of Lynn."
By Ellen M. Griffin. 170p. 1895. (Softcover Reprint)
ISBN: 0740477412


Moll Pitcher, born Mary Diamond (c. 1736, probably Marblehead, Massachusetts – April 9, 1813) was a clairvoyant and fortune-teller from Lynn, Massachusetts.

Moll Pitcher was said to have descended from a long line of "wizards." Her father, Aholiab Diamond, was a cordwainer in Lynn. He and Lydia Silsbee were married in 1735.
There were no public schools for girls at the time of her youth, but Moll Pitcher seems to have received some education. On October 2, 1760 she married Robert Pitcher, probably an apprentice of her father.

It is said that soon after her marriage she was known as a fortune-teller, a reader of tea leaves, with a clientele that continued to increase in importance for the next 50 years that she lived. Her fame reached throughout New England, and her successful predictions astounded the educated and the uneducated alike. She was consulted by all classes, including visiting noblemen from Europe. Her predictions concerned "love affairs, legacies, discovery of crime, successful lottery tickets, and the more common contingencies of life." But her most important predictions involved the outcome of voyages. Crews were said to refuse to sail on voyages she predicted would be disastrous, and shipowners to refuse to risk their ships.

Pitcher died in 1813 and was buried in the West Lynn Burial Ground.
---