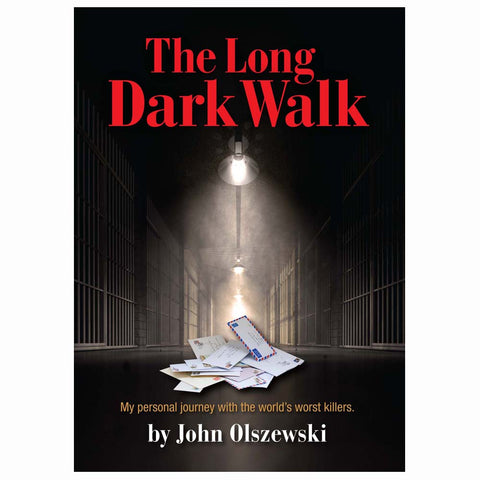 The Long Dark Walk
We may be out of stock, but you can purchase directly through

Amazon.com
By John Olszewski. 2019. 199p. (Paperback)
For the last twenty-plus years John Olszewski has corresponded with and even met our society's most infamous killers. His focus was initially on serial killers, but as time went on he reached out to mass and spree killers and even professional athletes who are incarcerated.

He wanted to back up his beliefs on how damaged the multiple murderers really are. Using a list of ten background factors such as mental health issues and physical abuse, he gives us the alarming numbers and a realization that someone should have noticed the monsters in our midst. Included in the book are photos of the subjects that have been sent to John as well as pictures of their artwork.

Some of the famous killers John has corresponded with are: Robert Bardo, Lawrence Bittaker, Ian Brady, Jerome Brudos, William Heirens, Elmer Henley, Keith Jesperson, Randy Kraft, Henry Lee Lucas, Clifford Olson, Richard Ramirez, Michael Ross, Arthur Shawcross, Pamela Smart, Peter Sutcliffe, Randall Woodfield, and Robert Yates.

"The Long Dark Walk" would be of interest to avid true crime readers, but also the casual reader filled with curiosity and questions about the evil that men do.
---